Date: 10 November, 2012
Location: Bali Hai Pier

Loy Krathong or the Festival of Floating Bowls, conventionally performed on the full moon night of the twelfth lunar month, is the most beautiful of all Thai Buddhist festivals. The floating of the 'Krathong' – a banana–leaf cup – is intended to float away ill fortune. Illuminated bowls floating over the water capture the imagination of the viewer. Loi Krathong Festival is celebrated in all parts of Thailand, including Pattaya. Places where there are rivers, canals or sources of water, the festival acquires unique features.
Pattaya arranges a complete evening event for the festival. The main event being held at Bali Hai Pier. A large stage is erected and live music from local Thai bands starts the evening. The walk ways are filled with street vendors selling Loy Kranthongs in many shapes sizes and colours. Some even look good enough to eat. Other street vendors sell clothing, food, drinks and Thai jewelry. Seating areas are set up for you to enjoy the evening and a cool drink supplied by one of the many vendors.
The Mayor address the crowd which is in the 1000's and the fire work display begins.
The festival doesn't stop at Bali Hai pier, the over spill runs along the whole length of walking street. With many stalls, vendors and outside seating. The whole evening is a credit to Pattaya and its people.
For more information: Pattaya City
038-253100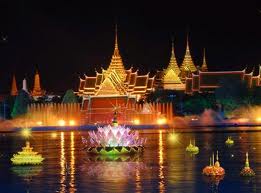 http://www.youtube.com/watch?v=TU19enR5eS4